Harmless-Dissolve
This bag dissolves in water, will compost naturally and is up to 3 times stronger than polythene.
Harmless-Dissolve is a readily biodegradable, water soluble polymer which completely biodegrades in a composting environment, in a dishwasher or in a washing machine. It has no harmful residues and will biodegrade into naturally occurring substances.

Cyberpac have delivered an industry first: a clear, compostable bag, printed in biodegradable inks with a biodegradable peel and seal lip. Have a look: www.creativereview.co.uk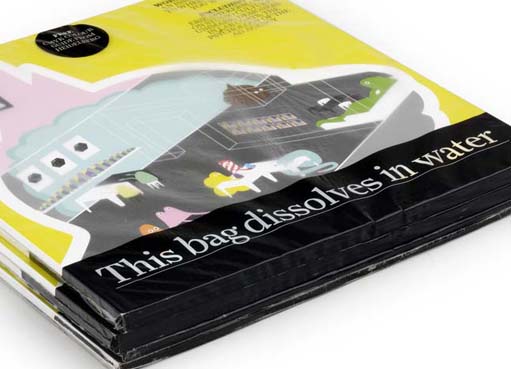 Harmless-Dissolve is non-toxic and is degraded by micro-organisms, moulds and yeasts. These organisms can occur in both artificial environments, such as anaerobic digesters, activated sewage sludge and composts and natural environments such as aquatic systems and soil. The micro-organisms use Harmless-Dissolve as a food source by producing a variety of enzymes that are capable of reacting with it. In the end the bag becomes carbon dioxide, water and biomass.
Harmless-Dissolve is incredibly versatile and flexible. It can be produced in many colours and formats:
For envelopes, Harmless-Dissolve can be made in any size, printed full colour process using biodegradable inks and finished with a biodegradable peel and seal lip;
For flow-wrapping in SWS roll format.